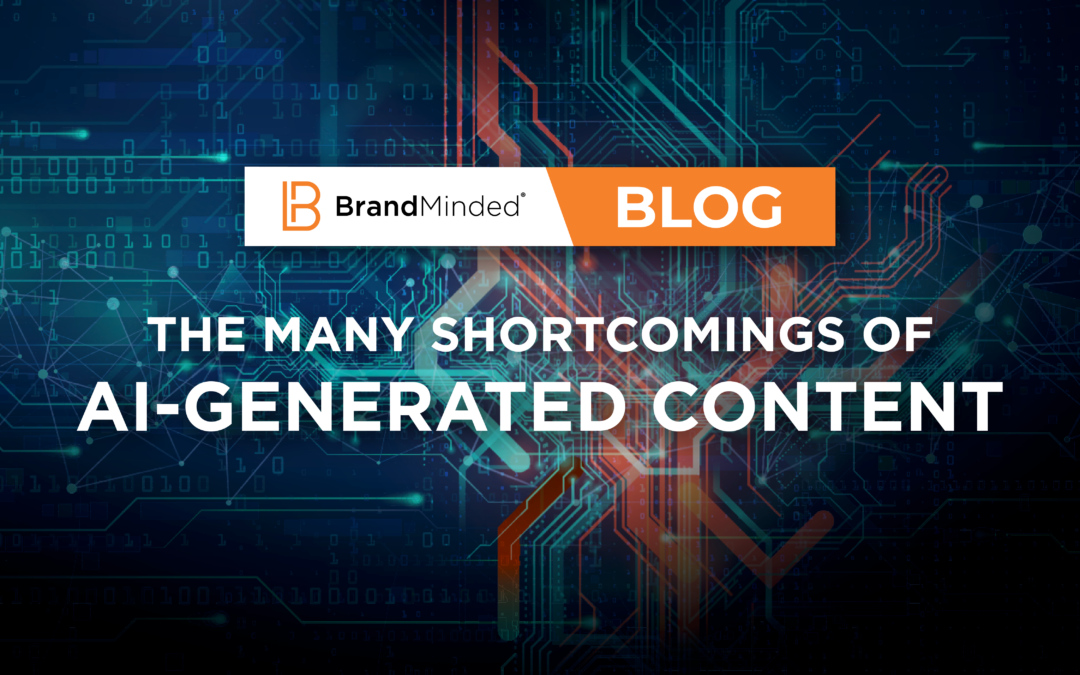 ChatGPT has shaken up the way brands are approaching content marketing. The artificial intelligence (AI) platform can churn out content at record speed, but it's far from perfect. AI-written content often falls short of meeting Google's ranking criteria. That means it may never get in front of your target audience.
You might generate a ton of content, but what good is it if it's buried under Google's search results? It's part of what makes professional digital copywriting services so essential. Every brand needs personalized, original content that's developed with its key demographic in mind. Here are just some of the shortfalls of AI-written content.
AI-Generated Content Doesn't Always Rank Well in Google
There are a couple of different reasons for this:
It Typically Doesn't Meet Google's Criteria for Quality Content
Google loves original, helpful content. It currently uses the EEAT content-ranking guidelines. It's meant to ensure that searchers get results that demonstrate:
· Expertise
· Experience
· Authoritativeness
· Trustworthiness
What we're seeing ourselves, and also hearing from other marketing experts, is that AI-created content lacks in these categories. That's because the content isn't being written by a person with first-hand knowledge of the topic at hand. ChatGPT, for example, is simply a bot that's trained to provide a response to an instructional prompt. High-quality content is the centerpiece of an effective content marketing strategy. Otherwise, SEO usually suffers.
It Can Be Harder to Differentiate Yourself from Competitors
While AI platforms may not intentionally create duplicate content, it's more than possible to end up with content that's similar to your competitors'. If you're targeting the same demographic, there's a good chance your blog topics may overlap with one another. If you're all using AI platforms to create your content, how original will it actually be?
Businesses that leverage digital copywriting services will have the upper hand. They're positioned to create trustworthy, high-quality content that's written with expertise, experience, and authority. Which do you think will rank better in Google?
It Might Not Use Inclusive or Appropriate Language
Our culture at large is gradually becoming more aware of diversity, equity and inclusion. Brands now have a responsibility to be more mindful with their marketing materials, which includes content creation. Brands need to be intentional when it comes to using inclusive language and making sure their content represents different types of readers. Otherwise, you could end up alienating existing and potential clients — or worse, offending them.
It Doesn't Put People First
Artificial intelligence churns out content without a human touch. Taking the time to really invest in digital content creation is a completely different approach. It puts your target audience at the center of the equation, instead of generic SEO keywords. You're writing for them, not at them. The goal is to create content that recognizes their pain points and offers viable, helpful solutions. That's how you gain trust and humanize your marketing materials. AI-created content doesn't have that ability.
What Makes Digital Copywriting Services Different?
When you partner with a digital marketing agency that understands the landscape, it can unlock a steady stream of people-first content that ranks in Google. That, paired with other digital marketing efforts, can take your brand to the next level. That includes comprehensive SEO and SEM strategies, social media marketing, reputation management and more. In other words, digital content creation becomes one piece of an overarching plan that's built specifically for you.
You'll also have access to a team of experts who are steeped in the digital marketing world. From graphic design to digital advertising — and everything in between — BrandMinded is a leading voice in digital marketing. If you're looking to up your digital content creation, reach out to the experts at BrandMinded® to get started.