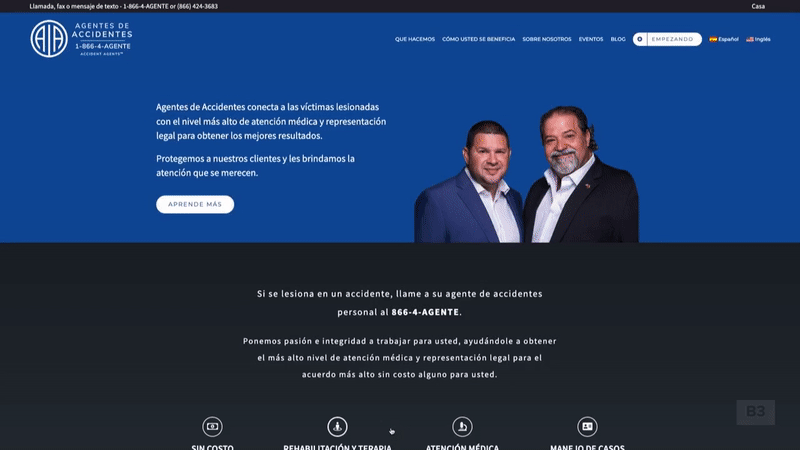 BrandMinded® is pleased to announce the launch of a fully bilingual Spanish-to-English translated website, AgentesdeAccidentes.com. This bilingual WordPress website uses custom Spanish translations to communicate effectively to its target audience – the Hispanic community of Tampa Bay.
Agentes de Accidentes came to BrandMinded® with an English-only website, seeking to expand their network through a bilingual site that would ensure the highest quality interpretation of their services. The company's goal was to grow brand awareness and reach a broader audience, specifically the Hispanic community of Tampa Bay, to appeal to more potential customers. We helped Agentes de Accidentes create a bilingual website by using professional human translators and custom plugins to have both the Spanish and English languages prominent on the site. Now, this website can communicate effectively to two different audiences without using a machine translator, such as Google Translate. In addition, this translation enhancement helped increase organic search traffic to the website by 190% compared to the previous year by bringing a new audience to the site. A custom, professionally translated website is an excellent option for businesses to significantly grow a company's potential audience, build a solid reputation, outperform their competition, gain trust and increase customer awareness.
Browse all of Agentes de Accidentes' Spanish/English website features at AgentesdeAccidentes.com and connect with BrandMinded® to learn more about how we can help you reach a new audience and grow your digital presence.