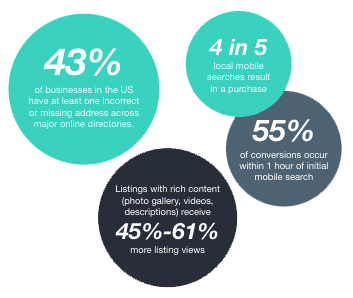 Did you know that over 43% of businesses in the US have at least one incorrect or missing address in major directories across the internet?
Having an incorrect listing online is going to cost you sales at some point if someone finds you on these services and is not able to contact you. They will just move on to the next closest listing and contact them. Even worse, imagine a prospective customer tries to drive to your business and ends up at the wrong location. This is a nightmare scenario for customer experience and in a world where reviews and online reputation mean so much, this will also hurt your business.
BrandMinded offers a listings / directories / and citation management solution that will automatically protect the way your critical business information is displayed on the internet. Our service connects with over 75 of the leading Maps, Apps, Search Engines, and social networks via direct database integration. This means that if you have to make a change, the change goes through instantly.
Previously when updating citations across the web, it was a manual process of contacting each site individually and jumping through many unnecessary hoops before finally getting the information updated.
Now with our citation management technology, we can handle updates to all of these sites with just the click of a button – in real-time!
This will help build your brand awareness, manage your online presence, improve your local search rankings, and drive more traffic both online and offline!