A guide to best practices for responding to online reviews, and how to spot & remove fake ones
Preface:
Dear reader, while this article was something we have long wanted to write about, it was prompted by a recent onslaught of abusive spam that somehow targeted our online profiles. This piece talks best practices, and also explains how we successfully removed fake reviews on account of abuse and spammy content.
For business owners and consumers alike, online reviews can be both a blessing and a curse. Without an online presence or any reviews to vouch for you, your business immediately feels suspect to the person looking you up. Transparency and visibility are integral in today's purchasing funnel; consumers are highly informed and one of the first things they look at when considering a new business is their online reputation. Reviews have never been more important – in fact, 84% of people trust online reviews as much as a recommendation from a family member or friend. 90% of people read online reviews before making the decision to visit a business.
With that said, the open-ended nature of being able to leave a review on Google leaves business owners vulnerable to abuse. Negative reviews happen to every business, but how you respond to them can make all the difference in the world. Think of handling negative reviews as an extension of customer service in the digital world; anyone who looks up your business can see the reviews as well as how you respond.
Here are a few guidelines and best practices for handling (real) negative Google reviews:
Acknowledge and Apologize
In the case that you received genuine feedback from a real customer who had a negative experience, it's imperative that you respond to them.
Most people want to be heard, especially when they had an expectation and felt they were let down. Perhaps their food order came out incorrectly. They specified to not include tomatoes because they're allergic. Naturally, it's understandable to be upset when their food comes out with tomatoes.
People make mistakes, to err is human. Acknowledge that your company made a mistake, genuinely apologize to the customer, and offer up solutions to the issue. A timely response that attempts to fix the situation will go a long way in rebuilding the trust that your company lost. Once a negative review goes online, the writer isn't the only party involved. Every consumer who saw it may be affected, so be swift and sincere in your response.
Learn from the Negative Reviews
Negative reviews should be seen as a rite of passage, a learning opportunity that you wouldn't get otherwise, so rise to the challenge. It's a chance for your company to overcome adversity, prove that it cares about its customers, and even convert critics and original naysayers into lifelong brand ambassadors.
Don't Get Defensive
While it's tempting to get defensive as soon as someone says something bad about your company, you must keep your cool. If you remain calm, you stand a better chance at diffusing the situation, and responding in a responsive, sensitive, and appropriate way. Attacking the consumer isn't something that a business should ever do – especially on the public stage of a Google business listing.
Don't Ignore It
Ignoring a review won't make it go away. It will still be online for future customers to see, and if you don't respond, they'll never know if the issue was resolved or not. Even worse, they won't know if the business owner even cared enough to critical feedback. Regardless of whether the comment is grounded in truth, all consumers want to see good customer experience here. Ignoring a review sends the message that you don't actually care about your customers and will ignore future ones if they have a problem as well.
Don't Participate in an Online Battle
Perhaps one of the biggest rules is: don't get into a pissing fight with your critic. Some people just want to argue. In fact, and as we learned here at BrandMinded, some accounts, profiles, and reviews are simply fake.
If you've tried offering reasonable solutions to their complaint and they still insist on disparaging your company, don't argue with them. Fanning the flames are exactly what they want and arguing with them won't showcase your company in a good light. Remember that you can't please everyone, so cut your losses and move on. Remember also the public (and permanent) nature of these exchanges and how they'd appear to future and potential customers.
Respond to Positive Reviews Too
Don't limit yourself to only responding when you get less-than perfect feedback from your customers. Thank and acknowledge your 5-star reviewers and show them you care about keeping their business. After all, they took the time to leave you a positive review!
How to Get a Fake Google Review Removed
If you've been the victim of a spammy attack like yours truly, there are ways to have fake reviews removed, provided you can prove that they violate Google's Contributed Content Policy.
According to the policy, Prohibited and Restricted Content includes:
Spam and fake content
Off-topic
Restricted Content
Illegal Content
Terrorist Content
Sexually Explicit Content
Offensive Content
Dangerous & Derogatory Content
Impersonation
Conflict of Interest
In our case, we received numerous negative reviews under ghost accounts which had no other identity, reviews, or online presence. Furthermore, the comments were repeated through various profiles and often didn't sound like a human being. For example:


Upon receiving the fake Google reviews, we flagged and reported the reviews to Google, and contacted them directly by messaging them through their Twitter Page, at https://twitter.com/googlemybiz.
Additionally, we called and spoke directly with Google and explained the case that we had not worked with any of these people, and that they were writing spammy content.
The next day, our team was relieved to see that Google recognized the abusive content: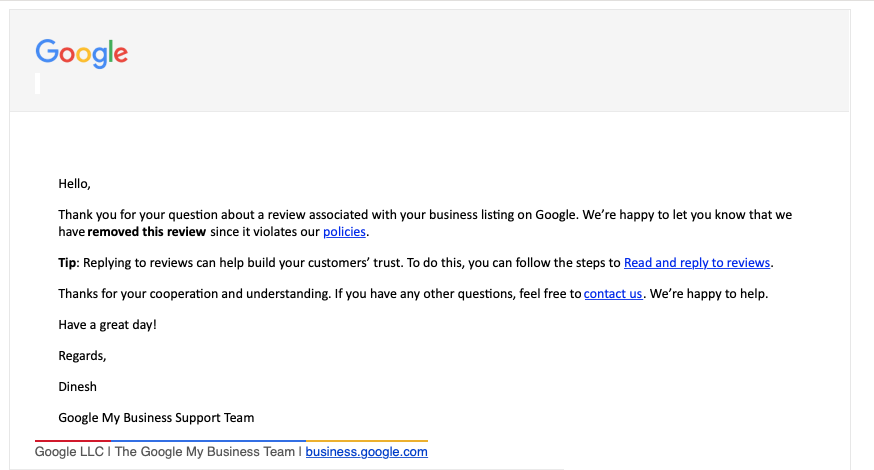 If your business is in a situation similar to this, you can try calling Google at 1-844-491-9665. But remember: online reviews are heavily in favor of the consumer. Unless they are clearly violating Google's review policies, getting negative reviews removed is extremely difficult, if not impossible.
The Future of Online Reviews
If it were up to us, the next generation of review platforms should have a verification process to validate the review, the reviewer's identity, and prove that they did in fact do business there. Uploading a valid ID, or providing a receipt or invoice should be a part of this process, otherwise it leaves business owners more vulnerable when anyone can simply leave a damning review with no consequence.
If you're having issues responding to negative reviews online and need some help reforming your brand's image, reach out to BrandMinded, a Tampa Bay-based digital marketing agency. Our team of experts will be happy to evaluate your business and create a local business marketing plan that fits your needs, protects your reputation, and elevates your online brand. Contact us to get started.