EMPLOYEE SPOTLIGHT MINÉ SALKIN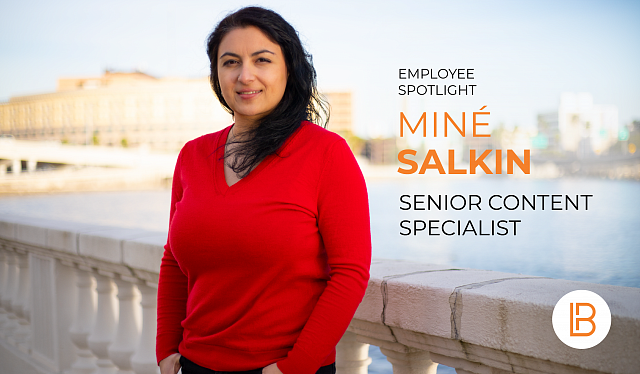 Meet Miné, the most Canadian and caffeinated member of the BrandMinded team! Her impressive writing skills and can-do attitude as a lead content marketing specialist make her an invaluable asset to her coworkers and clients. Get to know her by reading more:
What made you interested in marketing and writing?
I've always had a passion for writing and digital media. I started out as a multimedia journalist, covering bands and musicians. I loved being able to capture their story and convey it through videos, interviews, features, articles, photographs. Moving to the advertising world just felt like a natural transition – using the same principles and dynamics of storytelling, I help brands tell their stories and help them grow.
What are three words you would use to describe BrandMinded®?
Unique – No other agency has our blend of talents and backgrounds, full stop. As a result, we create unique campaigns with 'thumb stopping' content.
Honest – we are transparent about what we do and I think that's what drives us to be successful. Our clients have insights into every effort we do digitally.
Fearless – we can do anything and everything we do is done with excellence
Who is one coworker you admire, and why?
Karen has a super cool, calm demeanor that helps balance everyone out – even when we are under tight deadlines. Plus, she has a wealth of Seinfeld references that's second to none.
Favorite part about working at BrandMinded?
Every day presents a different and totally unique set of challenges that need creative thinking for creative solutions. With that energy comes the desire to produce better work each and every day.
What's your favorite restaurant in Tampa?
Ulele, Oystercatchers, Bahama Breeze… anywhere with a view.
What tv show are you watching right now?
Just finished Safe, Black Mirror, and Bloodline. Now watching Harlan Coben's The Five, and The Good Place.
Best concert you've ever attended?
I covered concerts for magazines for almost a decade, so this is incredibly hard to choose! Some highlights would be, Nine Inch Nails in Pemberton, TOOL, Blondie at the O2 Academy in Liverpool, Radiohead, Pearl Jam, Smashing Pumpkins, NOFX, Kaskade, The Who, Thrice, and the Dandy Warhols, Andrea Bocelli… I'll stop there.
Favorite place in the world?
Again, too hard to only pick one! Vancouver – my hometown. Istanbul – the place of my family history. Key West, Chicago, Prague.
If you could only have 3 apps on your cell phone, what would they be?
Spotify, Instagram, Amazon.